"A work of art is above all an adventure of the mind." Eugène Ionesco



Books, Blogs & Journals...



Electronic Music Pioneers (2002)
by Ben Kettlewell
$29.95 USD
"...a rollercoaster through the history of electronic and computer music...a wild and informative ride."
Dr. Joe Paradiso,
Principal Research Scientist, Technology Director,
MIT Media Lab
Read more about Electronic Music Pioneers here.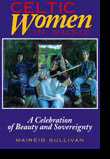 Celtic Women in Music (1999)
by Mairéid Sullivan
$16.95 USD (Limited Stock)
"The book is an easy and fascinating read, with Sullivan's gentle but persistent questioning allowing her subjects to illuminate themselves in a fashion that inevitably provokes a desire to hear their music." Don Heckman, Los Angeles Times
Please visit Alternate Music Press to read selected interviews from the book, Celtic Women in Music.

Read reviews and the publisher's Press Release here: Celtic Women in Music.


Ancient Self - Memoirs (1997)
by Mairéid Sullivan

A collection of Mairéid's selected prose and poetry.








Visit Mairéid's website for essays, poetry, and song lyrics



AMP is an online music archive with a World-Wide readership. Since its inception in the spring of 1997, AMP has been visited by nearly eight million readers.